St Joseph Academy Des Moines Stepperettes
Corps of 1958 - 1977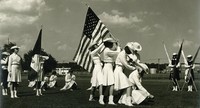 WELCOME
STEPPERETTES
We are planning a reunion for the weekend of October 4-5 of 2019. We are starting to gather current email and mailing addresses for corps members so please sign in and pass the word!
Members were entered under the first year they were in the corps. Apologies if we didn't get it correct, we were just trying to give everyone an approximate idea when someone was a member.
Sign in and add or correct the information we have for you. If we don't have you listed, let us know. If you know of someone that is deceased, let us know so we can add them to our In Memory section.
Each year Dowling Catholic High School gives Athletic Hall of Fame awards. The last two years they have also had a seperate group recognition. They recognized the Dowling Football Team of 1967, and 1968 for their award winning seasons. As National Champion Drill Team award winners for many years, we feel Stepperettes deserve this group recognition, the 60th anniversary of their first performance.
We will have a get together Saturday Oct. 5th, and will post plans as soon as they are made.
If we are successful with the Recognition by the Athletic Hall of Fame, there is a Reception before the school Pep Rally and the Inductees are presented to the student body during the Pep Rally. Then at the game the Inductees are presented again to the crowd either before the Varsity game starts or at Half Time.
We will be adding more photos. We invite you to add any photos you might have, too on the Photo Gallery page. Please feel free to add your memories of Stepperettes on your profile tab when you sign in or the edit profile tab on the left if you have already signed in.