St Joseph Academy Des Moines Stepperettes
Corps of 1958 - 1977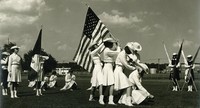 WELCOME
STEPPERETTES
We are planning a reunion for the weekend of October 4-5 of 2019. It has been 60 years since Stepperettes had their first performance at a Dowling basketball game. Let's celebrate!!! Please click on Corps Member Profiles on the left and sign in under your name.
Members were entered under the first year they were in the corps. Apologies if we didn't get it correct, we were just trying to give everyone an approximate idea when someone was a member.
Sign in and add or correct the information we have for you. If we don't have you listed, let us know. If you know of someone that is deceased, let us know so we can add them to our In Memory section.
Go to the Missing Corps Member Profile link on the left and help us find Steppers. If you know an address for any of the missing Steppers, let us know.
Our very exciting plans for Friday the 4th involve being part of the Dowling Catholic High School Homecoming celebration. We are invited to attend the afternoon activities including a Pep assembly, and then Homecoming events including being introduced during halftime at the football game. More information will follow on the Friday Activities tab on the left.
If you are looking for a place to stay, we have a block of rooms being held at The Hilton Garden Inn, 8600 Northpark Dr, Urbandale just north of I35-80, for $112.00 plus tax per night. Here is a direct link to make a reservation online: http://hiltongardeninn.hilton.com/en/gi/groups/personalized/D/DSMUHGI-SDT-20191004/index.jhtml Their direct number is 515-270-8890 if you would rather call. They are holding the rooms until September 13th, so make reservations before then.
We will be having a luncheon on Saturday the 5th at Bright Grandview Golf Course, 2401 E 29th St in Des Moines. Click on the Saturday Activities tab on the left for details.
We will be adding more photos. We invite you to add any photos you might have, too on the Photo Gallery page. Please feel free to add your memories of Stepperettes on your profile tab when you sign in or the edit profile tab on the left if you have already signed in.